How to Start
"Menya Dragon Ramen" is a "Play to Earn" blockchain-linked game.
It is unique in that you can earn cryptocurrency just by playing the game, which is different from other games.
In this page, we will introduce you to how to start
the blockchain-linked game "Menya Dragon Ramen".

What is the

"Menya Dragon Ramen"?
"Menya Dragon Ramen" is the unique [RPG x Ramen Sales Simulation] game.
In this game, you can conquer dungeons with easy auto-battle to obtain "ingredients" and sell "Ramen" using the ingredients you obtained and earn sales in the cryptocurrency DEAPcoin.
By using rare ingredients or being creative with cooking, Ramen sales can be enhanced,
giving you a chance to earn more DEAPcoin.


How to Start the

"Menya Dragon Ramen"
1. Sign up for PlayMining
Before starting the "Menya Dragon Ramen", you need to sign up for "PlayMining".
First, access "PlayMining" (https://daa.playmining.com) and click on "Log in & Sign up" from the menu in the upper right corner.
Second, follow the guidance on the screen and enter your e-mail address, etc.
If you successfully enter your email address, "PlayMining" will send you an e-mail
Check the mailer you are using and enter one-time password
and your designated password.

If the above procedure succeeds, then the display would be changed,
and you will be logged via registered e-mail address.
Your PlayMining ID registration is complete now!

2. Sign up for Menya Dragon Ramen
After finishing the registration of PlayMining ID,
please back to the Home Page of
"Menya Dragon Ramen" (https://dragonramen.flypenguin-games.com/en/)
and click on the [Game Start].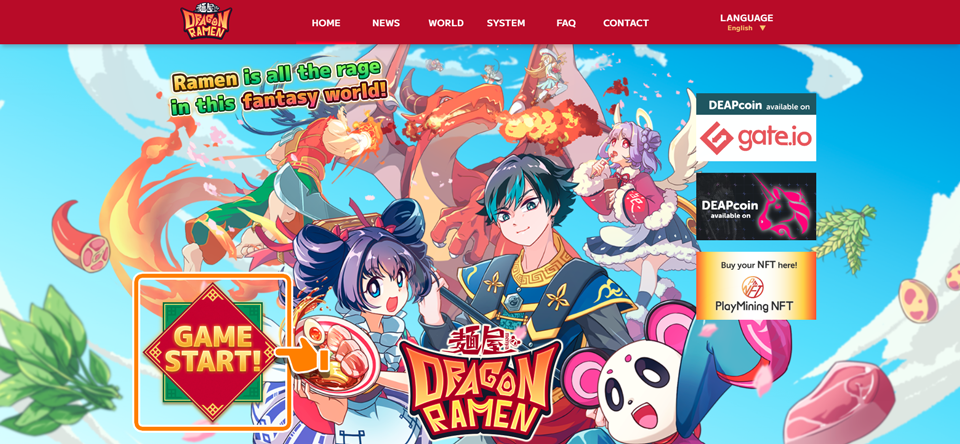 After entering the game screen, click on [New Game] and proceed to sign up for this game.
When registering, you will be required to enter the e-mail address.
Please enter the same e-mail address that you have entered at PlayMining ID.
After that, you will receive a mail with one-time password the same way when you signed up for PlayMining ID, please enter the onetime password in the switched display.
when you entered the e-mail address on the log in screen.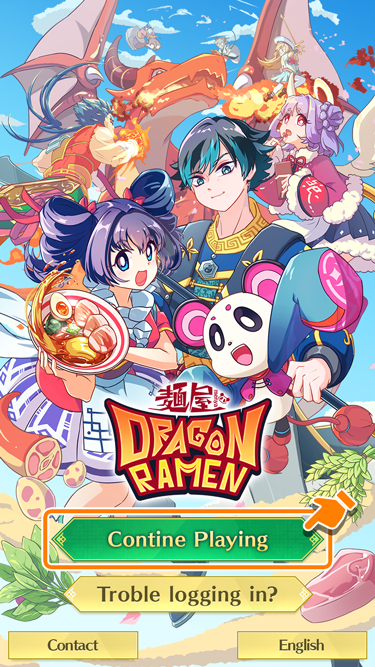 Once user name setting has been completed, you can play the game.
Enjoy the world of "Menya Dragon Ramen"!
How to buy DEAPcoin
In "Menya Dragon Ramen", you can play for free
by using the characters that will be distributed.
However, having an "Employee NFT" (hereafter called "NFT") will give you an advantage in defeating strong monsters to obtain rare ingredients and cooking delicious Ramen.
NFT can be purchased by using the cryptocurrency DEAPcoin.
You can also borrow NFT from other players, but first we will explain how to purchase NFT.
*Cryptocurrency, including DEAPcoin, are not "legal currency" like Japanese yen or
U.S. dollars, for which the government guarantees their value.
They are electronic data exchanged on the Internet.
*Cryptocurrency may fluctuate in value.
*Please ensure that you fully understand the transaction details and risks (such as price volatility risk, cybersecurity risk, etc.) when exchanging crypto assets.
Your PlayMiningID has already registered when you play the game,
so we will start by making your Wallet.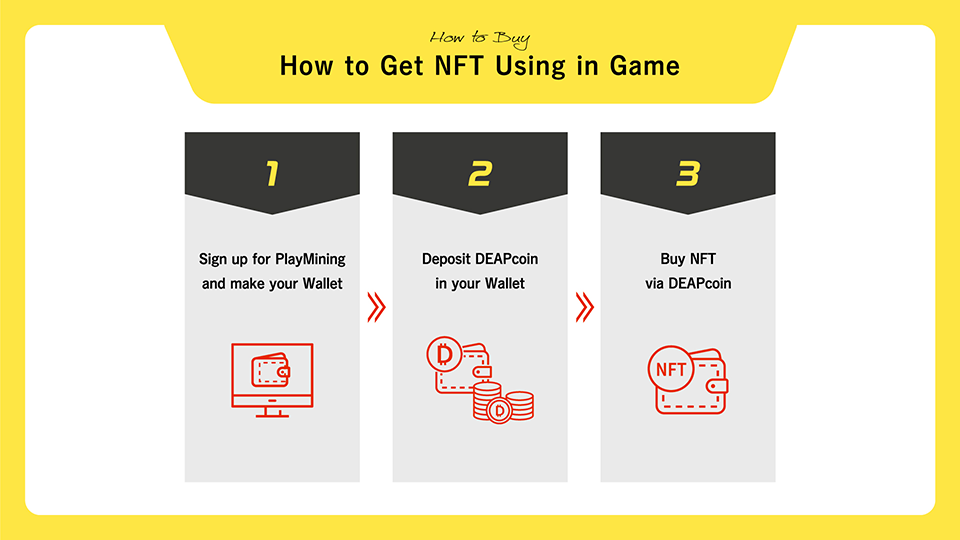 1. Making your Wallet at PlayMiningNFT
Log in to the PlayMining and make a Wallet from the TOP page.
When registering for Wallet, your phone number is required, so please be aware of it.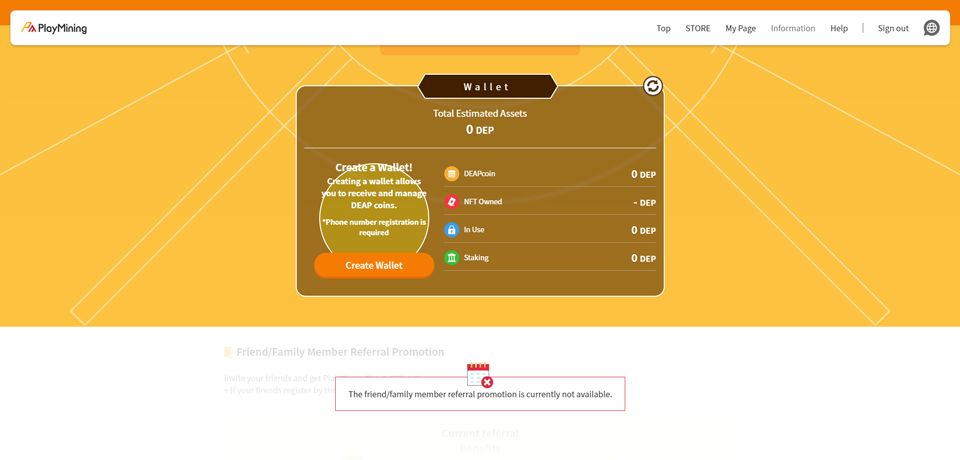 Once you have registered your Wallet, you can check your DEAPcoin balance in "My Wallet".
The Wallet feature and the management of DEAPcoin deposits and withdrawals
are administered entirely by PlayMining NFT.
* "PlayMiningNFT" is a platform which buys and sells NFT used in games.
2. Deposit DEAPcoin to Wallet
The first is to deposit from an external cryptocurrency exchange
and the second is to purchase DEAPcoin with a credit card.

A. Deposit from an external cryptocurrency exchange
If you already have an account on an exchange that deals in DEAPcoin
and are already trading cryptocurrency, this is also a recommended method.
Please check below for the cryptocurrency exchanges presently dealing in DEAPcoin.
https://dea.sg/service/
To transfer DEAPcoin from your cryptocurrency exchange account to PlayMining Wallet,
you need to raise your PlayMiner Rank to "Connoisseur"! So, you need to apply it in advance.
How to apply "Connoisseur"
① Jump to "Profile" page from the person icon in the upper right corner of the top page of "PlayMiningNFT".

② Click on "Apply" at Profile page.
*The PlayMiner Rank is automatically designated as "Auctioneer" at the time of completion of Wallet making, and you can become a "Connoisseur" by filing this application.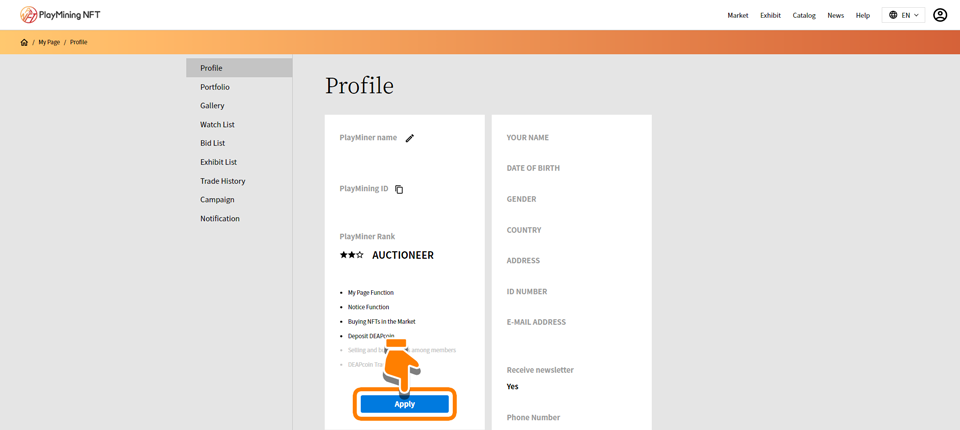 ③ Follow the screen instructions and enter the required information,
then upload your identification (such as passport, driver's license, etc.).
④ Connoisseur registration is completed after you pass the approval process.
*It will take up to 2 days for screening.
Buy NFT
You can purchase NFTs by using DEAPcoin deposited in your Wallet.
You can purchase NFTs sold by the management team or by other users at
PlayMiningNFT Market.
① Click on "Market" from the top page of PlayMiningNFT.

② Check "Menya Dragon Ramen" in the menu on the left to filter NFTs,
then click on the NFT you want to purchase.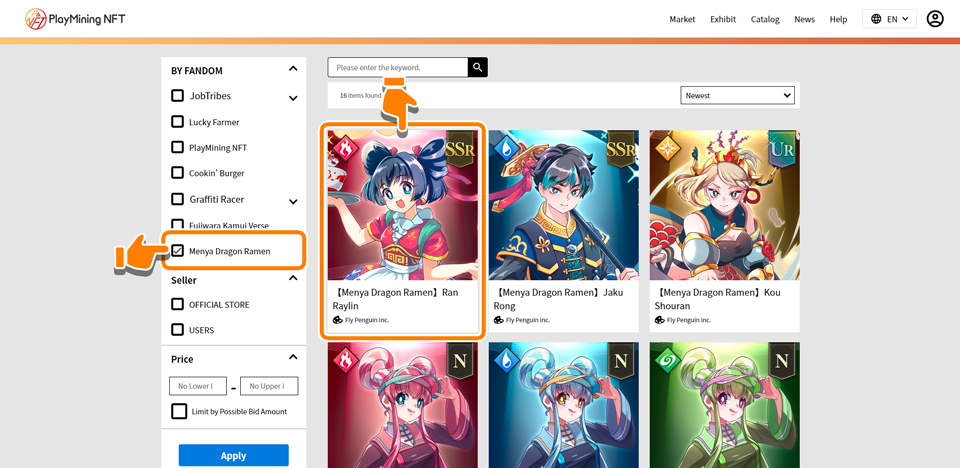 ③ Buy a NFT for sale in auction style or at a predetermined price.
*Your purchased NFT information will be reflected when you re-log in to
the "Menya Dragon Ramen".
About NFTs of "Menya Dragon Ramen"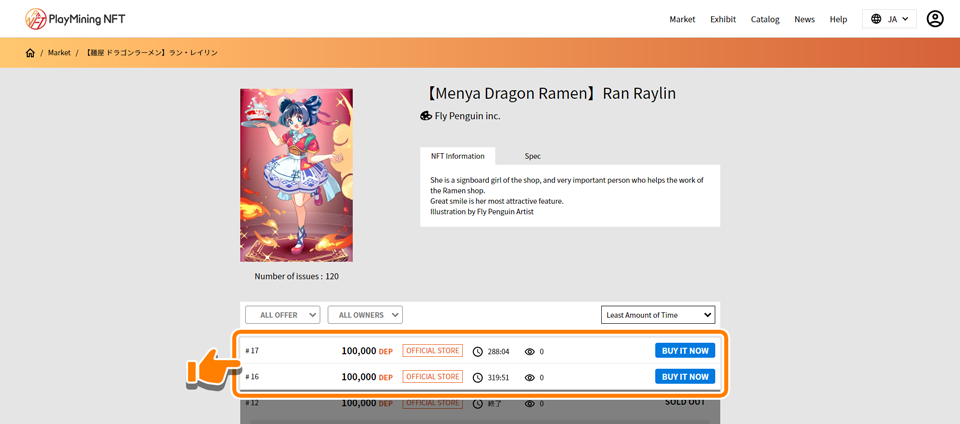 NFTs owned by each user are unique, with different abilities, parameters and skills, even if the characters look the same. Depending on the abilities and skills of the NFT,
the strength of the monsters that users can defeat will vary, resulting in Ramen sales!
In addition, you can also lend out NFTs to other users and earn part of their sales.